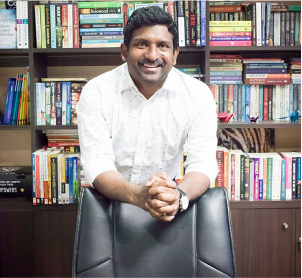 Contact Info
Ananth Padmanabhan
Chief Executive Officer
Anantha Padmanabhan is Chief Executive Officer of HarperCollins Publishers India.
Since Ananth's appointment as CEO, the company has grown its revenues and expanded its publishing footprint in English language publishing for India. Strategic initiatives included investing in new categories and voices, imprints and new capabilities. The company's strategic partnerships with various publishers both Indian and international and strong relationships with booksellers and distributors across the subcontinent have been instrumental in HarperCollins' growth story. HarperCollins is India's most awarded publisher and has been awarded the Publisher of the Year Award six times.
Collins Learning, the education publishing division of HarperCollins continues to be the fastest-growing education publisher in India. Collins Learning publishes across a range of subjects including ELT, Maths, Science, Computer Science, award-winning Dictionaries and Atlases and digital teacher resource material for the Kindergarten to Grade 10 age groups. In 2020 the division introduced a portfolio of digital products including Collins Infinity, a learning management system to enable blended learning, Collins Evaluate, Collin Perfect Assessments and a free platform Collins Digital Home Learning to reach the millions of schools going kids impacted by the pandemic. Over 6 million students in over 10,000 schools between kindergarten to Class 10 learn through Collins Learning teaching material everyday.
Ananth is Co-Chair of the Publishing Committee within FICCI. He has also served on the Executive Committee of the Association of Publishers in India (API). He is actively involved in policy making that enable a level playing field for Indian publishing, championing inclusion and diversity, protecting authors against Copyright and Territorial Infringement and fighting digital and print piracy in the market.
Ananth has spent over three decades in bookselling and publishing and began his career at a bookstore in Chennai, India, in 1992 where he discovered his love for books.