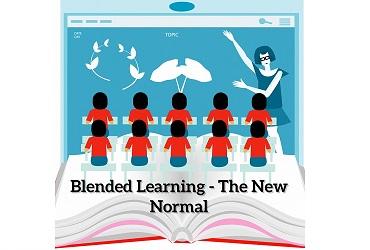 Blended Learning — The New Normal
WHY BLENDED LEARNING?
Technology has changed the way we acquire knowledge – making education more accessible to all. Education has undergone a revolution of its own and 2020 is a stark example of this. As per statistics put out by the UNESCO on its website, over 190 countries faced disruption in formal learning and teaching impacting nearly 1.5 billion learners at one point. As per the same report about 320 million learners have been impacted in India alone.
(Source:https://en.unesco.org/covid19/educationresponse)
WHAT IS BLENDED LEARNING?
Simply put, blended learning approach is a mixture of e-learning and traditional learning which is increasingly being adopted by educational institutes. This approach helps cater to the individual learning styles and needs. Blended learning brings together the best of both worlds – online study and face-to- face learning – helping students stay motivated and engaged. There are different models of blended- learning that educators across the world have been experimenting with:
Online: Instruction occurs via an online platform, with periodic face-to-face meetings.
Rotation: Student rotates between self-paced online learning and face-to-face instruction. Schedules are fixed but flexible.
Flex: Most instruction is delivered online, with teachers providing as needed support in small-group settings.
Personalized blend: Teacher designs face-to-face and anywhere, anytime learning options that straddle the physical classroom and virtual spaces. Learning is the constant and time is the variable.
Online lab: Instructions takes place in a brick and mortar lab. Delivered by an online teacher and supervised onsite by paraprofessionals.
Self-blend: Students take online courses to supplement their tradition schools face to face course catalogue.
Face-to-face: Teacher offers primarily face-to-face instruction, supplemented with technology in the classroom or computer lab.
From a teachers' perspective, a digitized setup or an LMS (Learning Management System), offered through blended learning solutions, provides a rich repository of print and online resources that allows the teachers to collaborate with students in order to create a more interactive engagement. A blended approach to learning and teaching also makes it possible to do justice to the concept of inter-disciplinary teaching and flipped learning methodologies. The recently announced National Education Policy, 2020 emphasizes on the inclusion of technology in the learning pedagogy to provide more holistic experience to the teacher and students.
ADVANTAGES OF BLENDED LEARNING:
The blended learning system has several perks over conventional education which makes it a preferred option for many.
Unlimited access: Instead of having to wait to get the course materials, students can enjoy easy and complete access to all relevant modules at the click of a button. Students can go through the work at their preferred pace and can gain a thorough understanding of each topic.
Personalized attention: Blended classrooms suit everyone's level of understanding and allow the teacher to pay individual attention to students. This way, teachers are able to connect and keep track of all questions and problems.
Peer collaboration: Among the many top blended learning benefits is the ability to be able to collaborate and engage in discussions with peers. You get to work with course participants, share feedback and enjoy an improved way of studying.
Affordable: Another great perk of blended learning is that it's pocket-friendly and affordable for students.
Improved efficiency: Using technology to learn things on your own makes one self-reliant. While students are guided, they have the independence to utilize study materials multiple times to build upon their knowledge.
Remote access: Blended learning allows students to study according to their own schedule and also offers in-class sessions. This makes learning both impactful and practical for all.
CONCLUSION
All students no matter their age learn differently and teaching methods should reflect this, by designing teaching programs in a way that reaches visual, auditory, and kinetic learners alike.
With the heavy integration of technologies, we can expect improvements in teaching, information retention, engagement, responsibility, and enjoyment. Students never outgrow their learning styles, meaning blended learning is more important than ever, no matter what the industry is, from schools to corporations, from all walks of life.