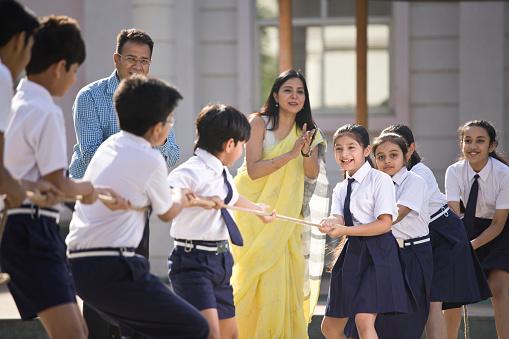 Embracing Sports Integration: A Vital Component of School Curriculum
India celebrates National Sports Day on 29 August every to commemorate the birth anniversary of Major Dhyan Chand Singh, one of the greatest hockey players to represent India in the Olympics and winning gold medals in the years 1928, 1932 and 1936. This day is dedicated to our sports' heroes and champions, honouring their efforts towards bringing laurels to the country, and to making people aware about the importance of sports in maintaining physical and mental health. The theme for this year's celebration is "Sports as an enabler for an inclusive and fit society."
Sports and physical education have long been used to provide a healthy break from core subjects taught in schools, making it co-curricular or extra-curricular, but somehow it hasn't found its well- deserved place in the school curricula. As a child, we used to have separate sports periods in schools that we would look forward to, to play games such as football, volleyball, cricket and basketball or indoor games such as table tennis, badminton, squash, kho kho or kabaddi. And what dismay when the sports period was taken over by a subject teacher to complete a course!
However, the National Education Policy (NEP) 2020 that led to the National Curriculum Framework (NCF) for Foundation Stage 2022 and the draft National Curriculum Framework for School Education 2023 recognizes sports integration as a key element in fostering holistic development among students. Combining physical activity with academic pursuits offers numerous benefits, including improving academic performance, enhancing social skills, increasing physical fitness, and cultivating values such as team spirit, discipline, perseverance, and collaboration. Contrary to the belief that sports integration may hinder academic progress, research shows that it supports higher academic achievement. Physical activity stimulates the brain, resulting in improved focus, enhanced memory, and increased attention span. Students who engage in regular sports activities demonstrate better cognitive skills, problem-solving abilities, and perform better academically compared to their non-active counterparts. Thus, NEP and NCF emphasize on integrating sports with the core subjects to help understand, apply, and experience/ experiment the concepts learnt, laying down curricular goals, competencies and learning outcomes for physical development too.
But often we struggle to integrate physical education and sports across subjects, let alone use them as a pedagogical approach to teach or apply the concepts taught in Mathematics, Science, Languages, Social Science, Arts, Technology etc. Here are some examples of how to use sports as a vehicle to teach concepts:
Mathematics
Math and football: Students explore math concepts such as measurement and geometry to calculate the dimensions of a soccer field, the area of a penalty box, or the angles of a goalpost.
Math and athletics: Students apply concepts of time, distance and speed to calculate the speed with which players need to run for a successful attempt at a high/long jump; to win a race; and to throw a javelin.
Math and cricket: Students learn to understand and apply concepts of addition, subtraction, division, ratio, frequency, charts and graphs and statistical data to calculate a batter or bowler's strike rate, bowling economy, run rate, etc.
Math and Scrabble: Students learn the concepts of probability while drawing vowels and consonants from a bag of 100 tiles. They also learn cumulative addition to keep scores.
Science
Science and basketball: Students learn about physics by analyzing the trajectory, velocity, and force required to shoot a basketball accurately. They also study the principles of gravity and motion to understand the mechanics of a basketball game.
Science and cricket: Students can apply the concept of kinetic energy when a cricketer hits a ball as hard as they can with their bat, i.e. in scientific terms, transferring as much kinetic energy from their body to the ball as possible. The bat serves as a go-between in the process, helping them to transfer energy more efficiently. The concepts of velocity and trajectory can be applied to calculate how long the ball will stay airborne and, using this, students can figure out how far it will travel.
Science and physical education: Students learn about the importance of a balanced diet and exercise regimen for optimal sports performance. They explore the nutritional needs of athletes, the benefits of various food groups, and the impact of hydration on athletic performance.
Languages
English/Regional and hockey: Students study the history of hockey, read literature related to the sport, and analyse hockey match reports to develop their reading, writing, and comprehension skills. They can also create galleries and word walls with words related to the sport.
English/Regional and tennis: Students write a paragraph or essay on tennis and its rules, write biographies about their favourite tennis players to develop their composition and vocabulary skills.
English/Regional and kabaddi: Students can enhance their communication skills by practising how to do commentary of a live game. This will also help develop their cognitive skills and attention span.
English and Spell bee: Students can enhance their referencing, vocabulary, listening, and spelling skills through spell bees.
Social Science
Social studies and martial arts: Students explore the cultural and historical background of various martial arts, such as karate or taekwondo. They learn about different traditions, philosophies, and values associated with these sports, fostering a global understanding of diverse cultures.
History and Olympic games: Students explore the history of the Olympic Games, from ancient Greece to modern times, and analyse the cultural and political implications of hosting such an event. They learn about moments of historical significance and the impact of athletes' performances. They can also form clubs forming clubs based on the guidelines from the Ministries of Youth affairs and Sports.
Geography and sailing: Students learn about wind patterns, maps, and navigational techniques used in sailing races around the world. They also analyse the different geographical conditions that affect the sport, such as currents and tides.
Geography and cricket: Students relate a captain's choice to bat or bowl first depending on the weather and pitch conditions.
Civics, research and Olympics Games: Students can conduct surveys, do case studies, perform secondary research and analyse data on India's position in previous Olympics and find about the sport that has fetched us more wins, etc.
Environmental Studies and cycling: As it is widely accepted, cycling tends to produce health benefits and reduce air pollution. Students can be taken on bicycle field trips to explain important concepts about the environment while also sensitising them to protect the environment.
Arts
Art and figure skating: Students study the artistic elements of figure skating, such as costume design, choreography, and music selection. They create their own programs, conceptualize costumes, and develop an appreciation for the artistic side of the sport.
Music and synchronized swimming: Students learn about the relationship between music and movement by studying the different routines and choreography involved in synchronized swimming. They analyse the synchronicity of movements and how music enhances the overall performance.
Technology
Technology and Formula 1 racing: Students investigate the technological advancements in Formula 1 racing, such as aerodynamics, engine design, and data analysis. They develop skills in researching, analysing data, and understanding the impact of technology on sports performance.
To conclude, sports integration in school curriculum yields numerous benefits for students. Using sports as a pedagogical tool to teach core subjects will help improve reasoning, critical and higher order thinking skills, social and emotional skills, and organizational and time management skills, thus developing our 21 st century students for success in both academic and non-academic aspects of life.
Let us celebrate National Sports Day by embracing sports integration and motivating students to engage in sports, to spread awareness about the benefits of physical activities, and to celebrate our sports champions.